An Evening With... Paul Ramsbottom
17 March 2015 | By Cause4 staff
Earlier in February 2015 Cause4 staff and a few selected guests gathered round the board room table with Paul Ramsbottom, Chief Executive of the Wolfson Foundation. The Foundation, a household name in the third sector, has awarded in excess of £800million in grants since it was established in 1955. It focuses on the support and promotion of excellence across four key areas: science and medicine, arts and humanities, education, and health and disability.
Paul has been Chief Executive at the Wolfson Foundation since 2007, setting an excellent example of a trend he sees slowly growing in the sector; that of a new generation of younger professionals building careers in charity and philanthropic work, in contrast to their predecessors for whom the decision was often more of a pre-retirement move. Under Paul's leadership the Wolfson Foundation has built itself up as a paradigm of the responsive and intelligent funder, with a strong board and panels of experts to strengthen decision-making, and an emphasis on 'listening', not only to applicants but also to the sector, and the wider public.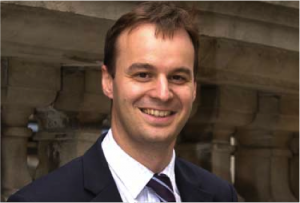 So it was a pleasure to turn the tables on Paul, and listen to him...
...on trends:
When asked why there were fewer grant-giving Trusts and Foundations being set up, Paul referred to the "Golden Age" of these institutions' creations (roughly, the mid '50s and early '60s). He posited that increasingly, there is recognition of the need for more philanthropic development, but, more importantly, for more effective philanthropy. This means philanthropy that is at once more intelligent, more thoughtful and that is willing to measure itself and its achievements. It is important to note that setting up these institutions involves public reporting, embedding a collective decision-making infrastructure and establishing long-term goals that relate to causes sitting at the very core of operations. So could it be a nod to a modern investment culture that shies away from constraints, be they real or perceived?
On social investment, Paul focussed on the rhetoric surrounding the movement and the rather
unhelpful role various (unnamed) Governments have played in espousing an ill-conceived brand of public investment in which existing third sector challenges are painted over with safe sums and high returns – a "have your cake and eat it too" approach. There is undeniable danger that the pursuit of 'stable' third sector investment will end up encroaching on the ethical investment priorities of an organisation that chooses to subscribe. On the other hand, investors have influence on strategy and Paul noted that organisations with Quaker influence are real leaders in this area. From the funders' perspective, social investment rhetoric can be another tool in the toolkit for attracting partnerships and raising an organisation's profile.
And what of the "uber" initiatives, such as the Bill and Melinda Gates Foundation? Will they set a precedent and their small-scale counterparts fade from view? Paul maintained that it's "fantastic to have such high profile examples" to put philanthropy on the international agenda, but that the danger of re-definition is real. There is also the question of focus – the current trend is for new philanthropists to target their funds in order to "crack" an issue, to use Paul's phrasing, rather than to establish a Trust or Foundation to more generally "give back", as Isaac Wolfson did so many years ago.
...on challenges:
Communication, as always, is a buzzword. General consensus is that "funders aren't listening!" The Wolfson Foundation listens actively, even going so far as to send targeted third parties out to gather feedback from funders, applicants and the wider public. There is a clear link here with a modern demand for transparency and accountability, which is slowly chipping away at the tried and tested reliance of charities and funders on "networks of influence" and nepotism. Paul referred to the "barbed-wire issue", where organisations don't want to or blatantly refuse to talk about what they're doing within the sector. The bald truth is that, often in the same way that doctors make terrible patients, charities don't like to take help (or advice) when it's readily available, or offered.
Accountability is another challenge. Foundations and philanthropists need to work more transparently, as they can't rely on the legitimacy born of compulsory public reporting. Some options that Paul offered were to open up archives and decision-making processes, and to use external review systems for applications. It comes back to communication – the more that people already know, particularly in relation to negative decisions, the less that they can question. An excellent example is the Wolfson Foundation's schools funding programme, in which private schools are no longer able to apply and applications are actively sought using data sets on a region by region basis, all in order to pick schools situated in deprived areas that are doing good work. Paul outlined that if you give your decisions a well-reasoned "why", that half the job is done.
Stasis is another big one, and Paul was quite right in saying, "there's no imperative for grant-makers to change." Why would organisations have one ear to the ground, let alone use current information on changes in the sector to improve the work they're doing, when to do so requires introducing "both a culture and a protocol to continually challenge what [funders] are doing"? Being dynamic is labour-intensive and disruptive. Our CEO and founder, Michelle Wright, noted the tendency of charities to tip-toe round their funders lest their money be cut off, and that this only exacerbates a stasis, or a range of business models that aren't working.
...on advice:
How to reinvent your organisation, you ask. A simple three-fold transition, says Paul. Since 2010, the Foundation has taken a root-to-branch look at the governance and actively arranged the board to reflect changes in the sector. Stage two involved a review of policy and development of "soft-help" that went both alongside, and over and above grants. Finally, he focussed on how, why and what the Foundation wanted to communicate, in order to actively engage in the debates about philanthropy in British society, as both a case study and contributor.
Paul also gave some excellent tips on making applications and the most important, by far, was to "do the little things right." Start well by doing your research and reading the funders publications, and end well by sending a 'thank-you' in response to a grant or award. Sadly, the 'networks of influence' are still kicking about so don't overlook key contacts. Above all, try to grasp the funder's decision-making dynamic – if you know how they approve grants, you're one step closer to having them approve yours.
***
Cause4 is extremely grateful to Paul Ramsbottom for so generously sharing his time and expertise, and for allowing us to pick his brain. Paul's work, and that of the Wolfson Foundation, has demonstrated that the sector can not only raise its standards, but also achieve them.
What trends do you see emerging in the sector? Do you think that social investment is a passing fad, a figure of speech or a workable business model that's here to stay? We'd love to hear your thoughts.
More by posts by Cause4 staff