Amanda writes an article for UK Theatre Magazine: Theatre Charities - Out and Proud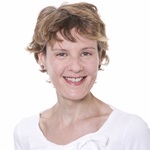 For the original article, please visit here.
It's now recognised that fundraising (philanthropic income from trusts and foundations, individuals and businesses) is an essential income strand for arts organisations, particularly those with charitable status. The very fact that the current levels of charitable giving to arts charities is so low means that even a small overall increase could have a profound impact upon organisations' income levels and general resilience (the CAF UK Giving Survey 2014 shows that 2% of people surveyed gave to arts charities, and they receive 1% of overall charitable donations). However, a large number of arts charities, including theatres, are finding it hard to make the shift towards a greater emphasis on fundraising within their business models. Here are my thoughts on some of the barriers to fundraising for arts charities and the first steps to overcome these.
Firstly, it goes without saying that fundraising is tough. It is a long-term activity, with Return on Investment calculated over years rather than months. But this is true for all charities, so what's so different about the arts? I believe the main difference is down to the tripartite business models operated by many arts organisations, with theatres as a prime example. Theatre companies and venues often operate as businesses largely dependent upon earned income from fees or tickets. Those with Arts Council or local authority funding are also public service bodies, meeting strict funding requirements. A large number of those organisations will also have charitable status and undertake some fundraising, but this 'third' part of their business model is often the one that gets overlooked by Trustees, senior management and, therefore, the public.
Fundraised income lags way behind at 10% of total income.   Comparing this picture with 2013/14, earned income has actually risen by 2% - fantastic news. But, with this increased focus on the 'business' aspect, the 'charity' aspect suffered, with fundraised income having fallen by over 1% in the year.
Theatre organisations want to present themselves as thriving, in-demand businesses this is important not only for their earned income but also for their public funding, which is driven by the 'public value' they demonstrate. Theatre leaders can be reluctant to publicise their organisation's charitable status out of a fear that this somehow diminishes their own hard-earned business success, and gives the unwelcome impression that the organization is 'holding out a begging-bowl'.
[caption id="attachment_11961" align="aligncenter" width="354"]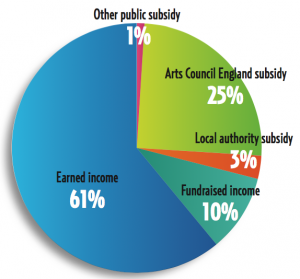 Source: Arts Council England NPO Annual Submission Data for 2014/15.[/caption]
It really is time to work through these concerns they're inhibiting business growth, and, I would argue more importantly, impeding the development of stronger relationships between theatre organisations and the public. Whilst the tripartite income model can be complex to manage, this income diversity is one of   the fundamental strengths of the arts sector. Organisations operating this model should utilise every opportunity offered for income generation. In particular, those with charitable status should proudly and publicly fundraise for their charitable activity.
Fundraising isn't primarily about 'asking for money', it's about developing longterm relationships with people who are interested in an organisation's cause and want to support it. Theatre organisations, whether venues or companies, have a massive advantage over other kinds of charities in that supporters come to them – they buy tickets, sign up for mailings, attend shows and workshops and follow the organisation on social media. Theatre charities need to communicate their charitable status far more,   and develop emotional, as well as transactional, relationships with their supporters. This means communicating the overall income model for the organisation, why it relies on fundraised income and what it does with this money – giving far more prominence to the beneficiaries and how their lives are changed as a result of the charity's work.
Fundraising offers powerful opportunities for organisations to communicate their value, impact and meaning to the public, and draw the public to their cause. This public support can be immensely important for advocacy for public funding, and equally valuable in generating customer loyalty. It's time to stop 'hiding' charitable status, but to be out and proud as theatre charities.
Amanda Rigali is Director of Strategic Development for Cause4 and Head of the Arts Fundraising & Philanthropy Programme (www.artsfundraising. org.uk).