Brian writes for Modern Manager: How to decipher the many cloud storage options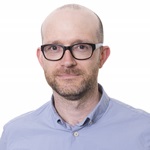 The cloud can help SMEs, start-ups and charities punch way above their weight; cutting costs, saving time and improving their reach. 
The cloud can help SMEs, start-ups and charities punch way above their weight; cutting costs, saving time and improving their reach. But it's not a quick fix and, as digital director of Cause4, Brian Moran, explains, modern managers need to cut through the hype before they can make the most of the cloud.
All businesses need to take a considered approach when making decisions about taking their business into the cloud. It seems easy to subscribe to a web service, upload content and share access with colleagues and collaborators, but a snap decision could be one that you might end up regretting. The cloud shouldn't be a quick fix; it should be part of a considered approach or strategy.
There are many different ways of adopting cloud technology and just as many partners to help you. It's true that you can operate your entire business from the cloud, although for many small businesses, to step into the cloud without careful planning can be risky.
A considered approach is a process unto itself. This takes time, planning and usually experience. So allow enough head-space to go through the process. Think through your specific requirements and list them in order of priority. Whether you wish to share documents with the people you work with remotely – or you want to open up your project planning system to external contractors or partners – think about your business processes and your regular workflow.
The benefits you could enjoy include an increased cost efficiency, reducing the duplication of effort and speeding up your service delivery. But you should always keep your clients, customers or beneficiaries front of mind. If operating your business or charity becomes too complicated because you've adopted a cloud-based platform, then you'll probably soon hear about it – either from complaints or, worse, a loss of customers.
You might want to replicate your current working practices into a cloud environment – or you might be starting from scratch. Don't just think about the technical side of things. What are the cost implications, what risks could you face, what support will you need on a day to day basis, and how long will it take until you're up to speed on the cloud?
What about budget?
Many cloud providers don't ask for fees up front but instead will require you to sign up to a monthly 'pay-as-you-go' contract. This differs from the majority of other technology services, where the manpower, hardware or software is purchased, in part or in whole, upfront. Leasing can feel like a life-saver for a cash-strapped business, or a small charity, but be warned. Some smaller businesses complain about feeling tied to one cloud provider if they decide they want to change in the future and sometimes face painful headaches trying to extract data.
You need to ask for a guarantee; a minimum expectation about the service you'll be getting, the availability of that service, the time to fix any issues and the standard of monitoring and reporting. Be happy with what you're signing up to before you put your name on the dotted line.
Your business will be closely tied to this new partner and a break-down, technically or professionally, can have a disastrous impact on you and your team's ability to do the day job.
Security needs to be taken seriously
Consider your most sensitive data and outline what security measures you'll need to have in place to protect it; never assume it's just being backed up automatically. With so many security breaches resulting from staff errors, take the time to ensure your team are comfortable and confident using a new platform. The cloud has to be accessible at all times, and fast at synchronizing data offline. So your connectivity to the internet is vital – as is the connectivity of any of your colleagues or contractors 'dialing in' remotely. The best cloud platform is rendered useless if it's unreachable so don't underestimate the value of high quality internet connectivity in your planning.
The cloud promises 24/7 availability and allows you to work and collaborate from all over the world. It's certainly worth doing but, like any step change, you should take a cautious well-planned approach when you adopt it for your company. Step into the cloud but keep your feet on the ground.
For original article, please go here.
Brian Moran is the Director of Digital Strategy at Cause4.