Cause4 Internships - Spotlight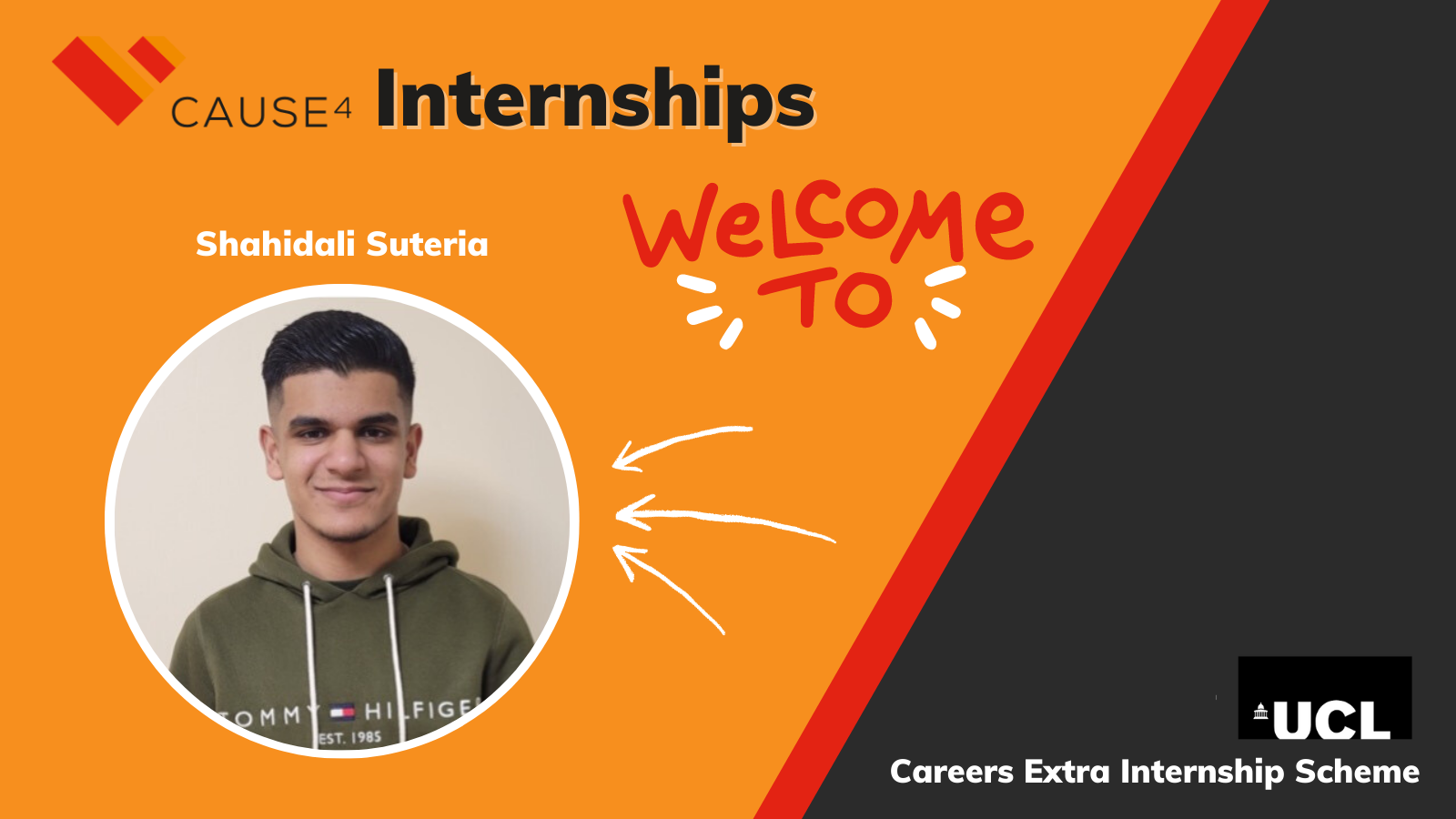 At Cause4, we're lucky enough to partner with University College London, who support students from under-represented backgrounds through the Careers Extra Internship Scheme. This summer, we're thrilled to welcome Shahidali Suteria, who is working alongside our team for four weeks, and getting stuck into all things Cause4. 
We thought we'd get to know Shahid a little better and ask him some questions about what he thinks about the sector. 
Hi Shahid, can you tell us a bit about yourself and your experience?
I'm a 19-year-old, British Muslim living in Ruislip and attending University College London, studying BA History, Politics and Economics. From a young age I have volunteered in charities, helping to host fundraising events and developing social media content. More recently I have undertaken an internship at a disaster and relief charity where I helped with marketing and in-person fundraising.
Why have you joined Cause4 and what are you looking to get out of the internship?
I joined Cause4 to get a perspective of the consultancy sector in a familiar setting. I have always wanted to help charities reach their goals so having the opportunity to work for an organisation who specialises in growing charities seemed like the perfect fit. From this internship I would like to widen my knowledge of the non-profit sector as well as gain skills in researching, proposal writing and working with a multitude of clients.
What do you think the most important things the sector should be focusing on right now?
The cost-of-living crisis has led to pressure on the non-profit sector; on one hand more people need charitable aid but on the other hand people are tightening their belts, and more charities need support. The non-profit sector needs to hone down on the "why" of donating to charity. Improving their connection to donors on a more personal level, whether it's thanking them for previous donations or evoking their emotions, is what will help the non-profit sector meet the increasing demand it faces. 
Where do you see your career developing?
Countless experiences with orphans and those afflicted by struggles has committed me to working in the non-profit sector where I can make a difference to those who need our help the most. Working in a consultancy where I can help charities build their "why" would be the best way to make a profound impact on society. For all that it's worth, I can pursue a career elsewhere but if I can put a smile on someone's face then there is no place I would rather be than the non-profit sector.
Finally, what is one tip you would give to other people wanting to work in a non-profit? 
One tip I would give to young people wanting to work in a non-profit is to deeply understand and align with the mission and values of the organisation you choose to work for. By understanding the mission of the organisation, you will be fuelled with motivation to make a difference in the work that you do and therefore make a meaningful impact on society. 
Thanks Shahid, it's great to have you on board!