Join us this August for the Trustee Leadership Programme (Virtual)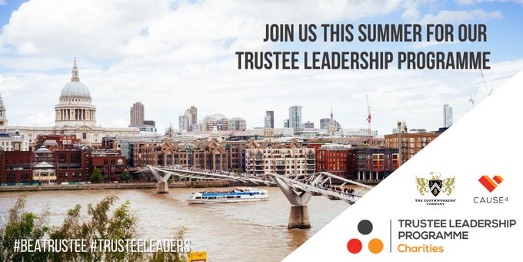 17 AUGUST 2022 TO 18 AUGUST 2022
Join the award winning Trustee Leadership Programme's live virtual course, empowering you to join a charity as a Trustee.
The Trustee Leadership Programme is back 
Delivered by social enterprise Cause4 in partnership with the Clothworkers' Company, this award-winning Trustee course now trains over 500 Trustees a year and gives professionals the skills and confidence to join a charity as a board member.
An enriching career development opportunity offered across two online sessions, the course covers the key responsibilities of Trustees and other regulatory issues alongside real-world insights from experts from across the charity sector.
Course Details - Virtual - AUGUST 2022
17th August (Wednesday) - 2pm - 5pm - Modules 1 and 2, & Guest Speaker
You will cover issues including:
- an overview of the charity sector and the importance of Trustees; and
- governance and strategic planning. 
18th August (Thursday), 2pm - 5pm - Modules 3 and 4
You will cover issues including:
- financial management; and
- an introduction to fundraising.
The first session is enhanced by an expert guest speaker, discussing their experiences as a Trustee, and answering questions.
The programme also includes bespoke matching support, where we use your interests, skillset and location preferences to find relevant Trustee vacancies from our network, helping participants on each programme to join Boards as Trustees.
The sessions give participants extensive time for Q&A, allowing for specific queries about governance and trusteeship to be addressed..
Sign up today to develop your leadership skills and strengthen UK charities.
The Trustee Leadership Programme is now Approved by the Institute of Leadership & Management, so participants can now opt to receive certification on completion of the course. This is a valuable way to demonstrate your continuing professional development and to showcase your commitment to becoming an effective board member.
What others say
Clearly articulated with a wide range of information provided and questions answered. Having a guest speaker and charity speed dating really brought it to life and gave meaning and context. - Lucy C-W, Local Government 
Extremely helpful. It provided a real insight into the work of trustees. I liked the ability to ask questions of the Trustees and gain an understanding of the needs and issues faced by their charities. I'd definitely recommend. – Debbie K, Government solicitor
The structure of the course was ideal, I was able to comprehend and digest the responsibilities and expectations of a Trustee. - Rafia F, UBS
Tickets for the virtual course cost £109.22 (inclusive of VAT and processing fees).
If you wish to receive Institute of Leadership & Management Certification, the additional cost is £60 (inclusive of VAT). If you wish to receive this certificate, please pay for it here.
If you have any other questions, please also email trusteeleadership@cause4.co.uk.
Michelle Wright
CEO, Cause4
T: 020 7247 2963
Booking terms and conditions can be read here.
The Trustee Leadership Programme is delivered by Cause4 and you will be contacted directly by this organisation. To find out more about our privacy policy, please contact trusteeleadership@cause4.co.uk.