Michelle writes for The Guardian about enterprises thinking more 'social'
[caption id="attachment_9487" align="aligncenter" width="300"]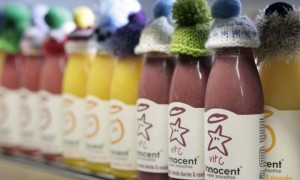 Innocent partnered with Age UK for its Big Knit campaign. Photograph: Edmond Terakopian/PA[/caption]
Michelle Garcia Winner coined the term 'social thinking' in the late 1990s. She viewed social skills as dynamic and situational, not as talents that could be taught and then replicated.
So individuals that 'think social' evolve social skills based on how they want to be perceived. In effect, the decision to use certain social skills (such as swearing versus speaking politely) is part of a conscious thought process that enables individuals to interpret and understand the specific social situation that they are in and to adapt to the behaviours that are expected of them.
As I thought about this concept, I recognised its transferability into enterprise. We are seeing a definite trend towards more socially-minded small businesses that are getting ahead not only through smart leadership and good products, but because they have been conscious about how they want their brand to be perceived from a social perspective.
Organisations such as Buster's Coffee, which sells Fairtrade coffee and provides employment opportunities for adults with learning disabilities, or the phenomenal Roast restaurants that have put employability right at the heart of their business model, are fascinating in terms of social positioning. International examples include SoleRebels, a shoe company that creates jobs in Ethiopia, provides four times the minimum wage for employees, medical coverage, and transportation for those with disabilities.
What's more, these more socially-minded businesses are definitely capturing the spirit of the graduate labour market, with current research indicating that Generation Y (those born between 1980 and 2000) is less interested in financial gain than their parents, and more concerned with job fulfillment.
In a new programme run in partnership with Santander Breakthrough I'm starting to explore the concept of responsible business for the UK's small business community, to see how social thinking allows the savvy entrepreneur to get ahead and be perceived in a positive light by customers and suppliers alike.
There are two key ways that social businesses are able to forge ahead, both of which are low-cost and easy to implement:
Talent development programmes

It is estimated that by 2030, 50% of all current jobs will no longer exist. The employment sector is changing and small businesses need to be at the forefront of thinking about how they create the talent pipeline for the future. New models of education such as University Technical Colleges are providing young people with the technical skills needed to enter the workforce, and partnerships with local colleges can be a great source of talent for small businesses.
There are also brilliant examples of apprenticeship schemes for SMEs, such as Anthony Impey's Tech City Stars. This scheme supports young people from London to gain a qualification in web and software development, ICT systems and networking, and digital marketing, as well as supporting them to gain paid experience working in a growing small business.
These programmes are important for the UK's economy too. According to the National Audit Office, every £1 spent on apprentices pays back £18 to the economy, which helps small businesses thrive all round.
Charity and social enterprise partnerships

There are also many examples of SMEs partnering with charities to improve their image and bottom line. A well-known examples is Innocent, Age UK and the 'Big Knit' campaign – Innocent donates 25p for every branded smoothie sold. This partnership has raised over £1.75m for charity over 11 years and is cited as helping Innocent see profits go from £7m to £250m.
Undoubtedly, such charity partnerships can lead to a stronger brand and a better reputation, access to customers, PR opportunities and increased employee morale. And the list of how to set up such partnerships ranges from everything from charitable donations to in-kind support to employee volunteering.
Similarly, small businesses can gain from setting up their own charitable foundation. Starstruck Media, one of the UK's leading television and production companies, set up its foundation to support charities with fundraising and video production.
There are also opportunities for small businesses to get involved with existing social enterprises in the community. Cambridge-based FoodCycle merges volunteers, unused kitchen space and surplus food for people who are in need of a meal, and relies on pro-bono support from companies who want to help out.
Many small businesses cite lack of time and lack of experience as reasons for not moving forward with more socially-minded partnerships. But can they afford not to when social values are becoming so much more important in the way that we go about doing business?
Most importantly, it seems that many small businesses that are embracing this work are the front-runners in terms of increasing the bottom line. Social thinking seems like a win-win to me.
The full article can be viewed here