New Dates Announced for the Trustee Leadership Programme 2023/2024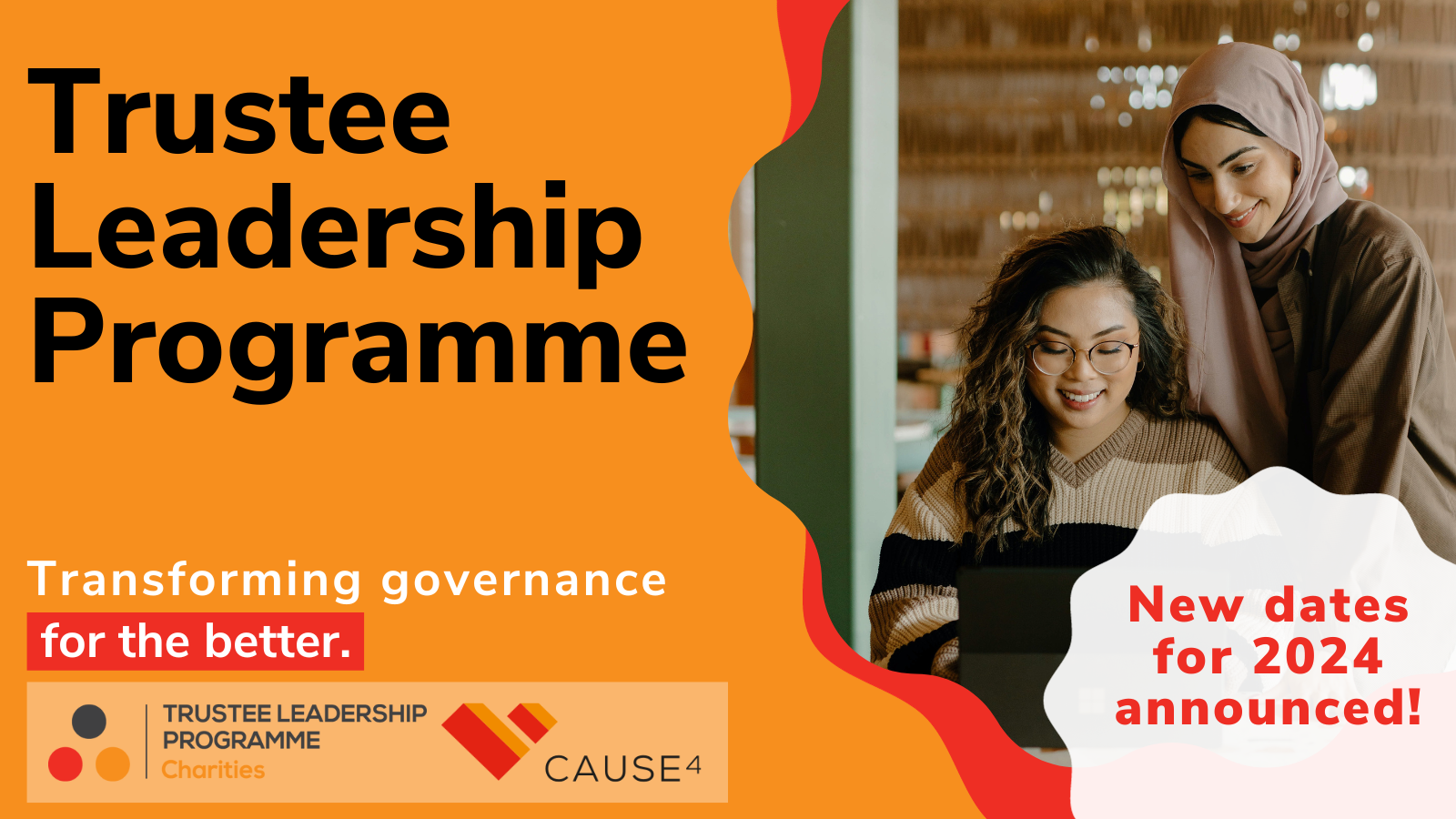 New Dates Announced for 2023/24
We are delighted to announce several new courses as part of our award-winning Trustee Leadership Programme. Please see below for the full schedule and visit our Events page to find out more about each of our programmes. 
Emerging Chairs Programme, 29th November 2023
Trustee Leadership Programme, 13th & 14th December 2023
Trustee Leadership Programme, 7th & 8th February 2024
Emerging Chairs Programme, 17th April 2024
Trustee Leadership Programme, 5th & 6th June 2024
Emerging Chairs Programme, 18th September 2024
Trustee Leadership Programme, 6th & 7th November 2024
Emerging Chairs Programme, 11th December 2024
About the Trustee Leadership Programme 
Delivered by social enterprise Cause4 in partnership with the Clothworkers' Company, this award-winning Trustee course now trains over 500 Trustees a year and gives professionals the skills and confidence to join a charity as a board member.
An enriching career development opportunity offered across two online sessions, the course covers the key responsibilities of Trustees and other regulatory issues alongside real-world insights from experts from across the charity sector.
About the Emerging Chairs Programme 
The acclaimed Trustee Leadership Programme has now launched an enriching career development opportunity, offered over one day, to cover the key considerations and skills needed to chair a Board of Trustees. 
Too often Trustees find themselves chairing a Board with the ultimate responsibility for the charity's success and sustainability but with little support or training.  Just as with any organisation, the buck stops with its leadership and Chairs of charities need to feel empowered to know what is expected of them.
The programme is suitable for those who aspire to become Chairs of a charity or for existing Chairs who wish to progress and develop within their role.  All participants must have experience as charity Trustees. These practical sessions will also provide time for Q&A.
Bursary Support 
We are delighted to be able to offer bursary places on our programmes for anyone who is from a background currently underrepresented in governance or who is unable to to afford a full price place. For more information, follow this link or get in touch with the team via trusteeleadership@cause4.co.uk 
"It is the best training I have had in the past 5 years. Michelle Wright is incredibly informed, knowledgeable and a gifted teacher"

- Julie H, UBS
"Although I have been a Trustee for many years, with several charities, completing the Emerging Chairs Programme made me feel better equipped and confident in applying for my first Chair role. Cause4 has helped me to be an effective Chair from day one. Thank you."

– Anthony Blackman, Chair, Transforming Autism Project
"The trustee programme was really insightful and gave me an opportunity to understand these roles in a way I wouldn't have been able to prior to the course. Trusteeships had always appeared inaccessible to me, but this course has given me the confidence to approach and apply for posts that I previously thought were out of reach."

- Izzy Rhodes, TLP Participant
For more information including costs and how to book, please see the relevant course event pages on our website. 
If you have any other questions, please also email trusteeleadership@cause4.co.uk.
------------------
Michelle Wright
CEO, Cause4
T: 020 7247 2963
Booking terms and conditions can be read here.
The Trustee Leadership Programme is delivered by Cause4 and you will be contacted directly by this organisation. To find out more about our privacy policy, please contact trusteeleadership@cause4.co.uk.