Cause4's Pick of the Month, February 2019
4 February 2019 | By Cause4 staff
Another cold, dark January has flown by and the Cause4 team are excited to share some more brilliant stories about the Entrepreneurs, Trustees, Fellows and Charity Leaders who are our inspiration this February. 
Entrepreneur(s) of the Month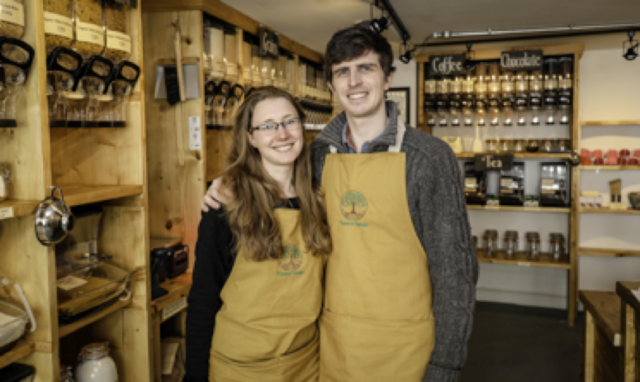 Cause4 is delighted to announce that we have selected two Entrepreneurs of the Month for February 2019, Robin and Chloe from Natural Weigh. Natural Weigh is a social enterprise championing zero waste and plastic free shopping in Wales. The company invites shoppers to fill up their own containers with as much of what they want and pay based on the weight of the products. This flexible and environmentally friendly shopping aims to support healthier lifestyles and a healthier planet for the future. The shop is located in the town of Crickhowell in Powys, Wales, but the social enterprise also supports and partners with ethical businesses across the UK.
Natural Weigh was founded by Robin and Chloe to make a difference to the way plastic is used in shops. Robin and Chloe founded the company based purely on their own passions, having both worked in environmental policy and marine science for many years.
"Weigh your way to a greener future. Pwyso eich ffordd i ddyfodol gwyrddach. Our ambition is to enable people to live more sustainably, specifically by avoiding single use plastic packaging, and that is at the heart of Natural Weigh."
Follow Natural Weigh on Twitter: @NaturalWeighLtd
Charity Leader of the Month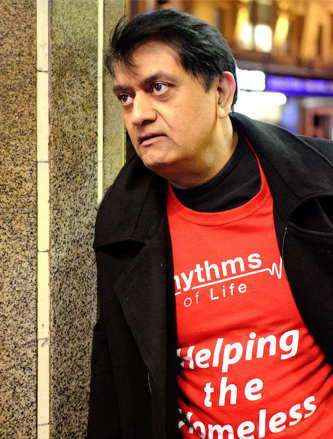 Cause4 is delighted to announce that its Charity Leader of the Month for February is Andrew Faris, founder and CEO of homelessness charity Rhythms of Life.
Born and raised in London, Andrew ran a successful estate management firm in the 1990s, but then unfortunately found himself homeless. Unable to open a bank account and struggling to find work, he was forced to remain homeless for nearly six years, while he sought to rebuild his life through selling magazines and seeking employment through local traders. Yet he suffered much more from intense loneliness and social isolation than from hunger.
While living on the street proved to be a life changing experience, Andrew was able to see that the homeless' needs were catered to in the wrong way. This was mainly due to the fact that help came from an outsider perspective that was rarely able to grasp the situation clearly and to its fullest extent. Time went by and once Andrew was able to settle down and save some money, he decided that the time had come for him to take action.
Rhythms of Life, during its eleven years of service and daily commitment, has now served more than 311,000 meals and has prevented over 92 tonnes of food from being wasted. While many other charities do not provide toiletries, education, food and clothing on a regular basis, Rhythms of Life does this daily. The charity not only caters for rough sleepers in their basic needs but also actively encourages and supports them in taking an active role in rebuilding their lives.
"Our daily food service is all about personal and friendly interaction – we place great value on making our homeless and vulnerable friends feel like more than just another person in a queue. From my own experience I understand that loneliness and isolation can be some of the toughest challenges facing rough sleepers."
You can follow Rhythms of Life on Twitter at @RhythmsOfLife. 
Fellow of the Month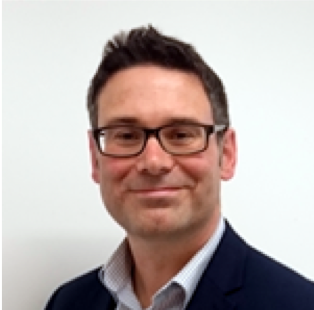 We are pleased to announce that Steve Turner is Arts Fundraising & Philanthropy's Fellow of the Month.
Steve Turner is Head of Commercial & Innovation at Libraries Unlimited, a relatively new charity, set up in April 2016 to deliver library services across Devon. Reflecting back on the previous year and his experience being on the Professional Fundraising Fellowship, Steve said:
"Having the opportunity to take part in the Fellowship was incredibly useful to me personally and for the organisation, given that we were both starting to explore how to fundraise more effectively.

Through the programme I've been able to make great contacts, benefited from an excellent mentor, and since completing the fellowship I've put what I've learnt to good use by developing our first Fundraising Strategy. All of this is starting to show results with clearer fundraising messaging, and additional resources for the great work that we do. We're now making sure that we build on this great start, and will continue to refine our campaigns and messaging, making sure everyone from staff, to customers, to potential supporters, know what difference any additional contributions can make."
You can follow Libraries Unlimited on Twitter here: @LibrariesUnLtd
Trustee of the Month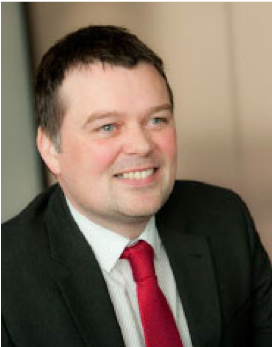 Cause4's Trustee of the month this February is Michael Rudman. Michael is the Commercial Director at Simplyhealth and he recently joined the Board of Trustees at The Muscle Help Foundation, a small charity working tirelessly to help fulfil the cherished dreams of children and young people with the muscle wasting disease, Muscular Dystrophy and allied neuromuscular conditions.
Having completed the Trustee Leadership Programme, Michael felt he had gained a sound understanding of the roles and responsibilities required, but it took 12 months of searching before the stars aligned and he found the perfect position. Michael has Muscular Dystrophy himself and it was crucial to him that he joined a charity he really cared about. 
Michael has particularly enjoyed taking on a role in commercial development and marketing, as this complements his own background and skillset. He is also really excited by the innovative work that Muscle Help Foundation is doing in partnership with the University of Hertfordshire to demonstrate the charity's important impact.
Michael's advice for anyone considering becoming a Trustee is: 
"Wait for the right opportunity and be prepared. It's hard work joining a Board, so don't just do it for your CV, make sure you're doing it because you really feel passionate about the charity."
Follow the Muscle Help Foundation at @musclewarrior
More by posts by Cause4 staff