Charity Fraud Week: A round-up of the best guidance and recommendations out there
19 October 2020 | By Edward Drew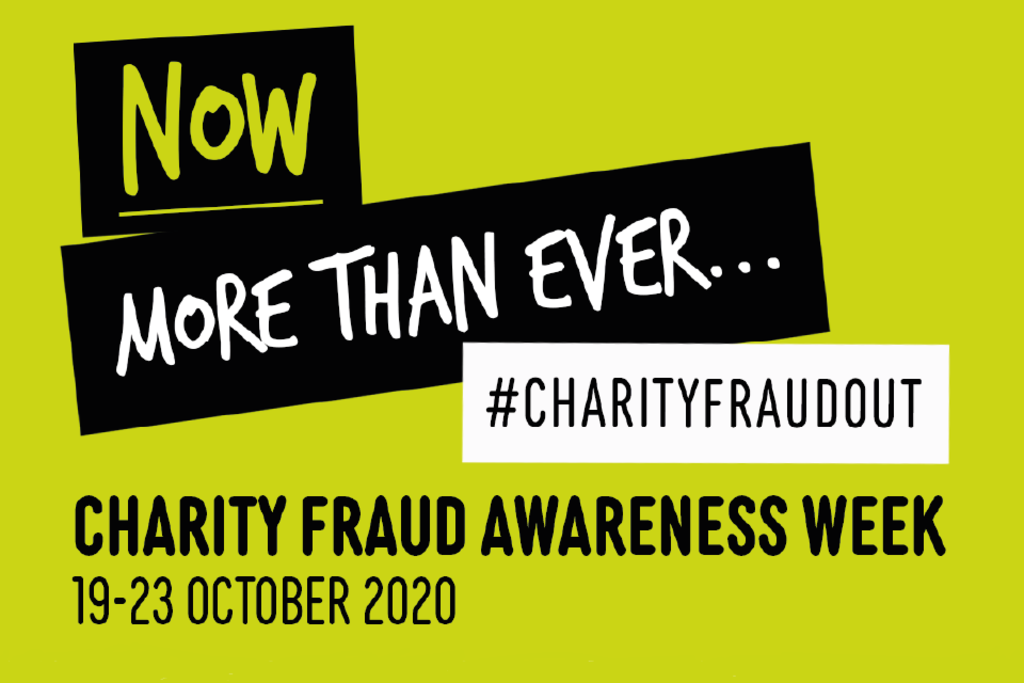 Today marks the start of International Charity Fraud Awareness Week, bringing together everyone involved in the sector to raise awareness and combat fraud. This year's campaign has three core messages: 
Be fraud aware
Take time to check
Keep your charity safe
It's never been more important for Trustees to protect their charities from harm, with criminals seeking to exploit the COVID-19 pandemic for their own gain. There are numerous types of fraud in the charity sector, with Trustees needing to be aware of a whole host of concerning activities: 
Misuse of the charity's bank account; 
Fraudulent card transactions;
Stealing from cash collections;
Fake fundraising events and requests for donations;
Theft from charity shops;
Fake invoices;
Charities set up for improper purposes;
Fraudulently obtaining grants or sponsorship; and
Suspected money laundering. 
All charities large and small are at risk of fraud, but how much does it actually affect the sector?
What's the scale of fraud in our sector?
The Annual Fraud Indicator estimates the cost of fraud to the UK economy as a whole is £190bn a year, whilstThe National Fraud Authority estimates £147m is lost by charities in the form of fraud annually. 
The National Fraud Authority surveyed charities in the UK and found that 70.7% of fraud was external to the charity and 31.3% was committed as internal fraud, of which 13.6% involved online methods.[1]
The Charity Commission 2019 report into fraud in the charity sector also found that in the next two years, for every 25 charities in England & Wales, one will suffer fraud, with 26% of charities believing they're vulnerable to fraud due to an over-reliance on goodwill and trust. 
The report found that fraud awareness in the sector remains low, with 34% of charities believing they're not vulnerable to any of the most common types of fraud (internal fraud, external fraud, fundraising fraud and beneficiaries' fraud). 
The Charity Commission has identified a clear need for all charities to recognise that they are vulnerable to fraud.  
What Can Trustees do?
Whilst all staff, volunteers and beneficiaries of a charity should have an interest in preventing fraud, Trustees have a particular legal responsibility to manage fraud risks. 
Trustees must ensure that a charity's assets are properly used, funds are raised ethically and spent effectively, risk is identified and mitigated, and that finances are monitored and well-managed. 
Trustees are also held to account when fraud is uncovered and reported, which is why having strong internal financial controls and adequate accounting records to point to is important to show due diligence. 
So, what can Trustees practically do to prevent fraud in their charity?
Accept that fraud can happen. Charities are no less likely to be targeted than organisations in the private or public sector. It is important for Trustees not to deny or gloss over their own charity's susceptibility to fraud.
Strengthen financial controls and procedures. Trustees can use the checklist provided by the Charity Commission to self-evaluate their charity's strengths and gaps when it comes to fraud prevention. For example, having a whistleblowing policy in place is crucial to uncovering fraud. 
Get external help. Fraud evolves continually, and faster, due to the growth of digital technology. For this reason, the Charity Commission recommends larger charities to invest in an independent audit into a charity's financial controls. 
Invest in fraud awareness training. Financial loss and reputational damage can be reduced by effective prevention. It is far more cost-effective to prevent fraud by investing in fraud awareness training than to investigate it and remedy the damage caused.
Say the 'F' word. Trustees should encourage a culture where talking openly and honestly about fraud isn't a taboo. Setting time aside in Board meetings to discuss fraud is a good first step. 
Report every individual fraud. Reporting fraud to the police and relevant authorities will strengthen a charity's resilience to it. Charities should report allegations or incidents of fraud and cyber-crime to Action Fraud via its online reporting tool. Fraud should also be reported to the Charity Commission as a serious incident here.
Get everyone onboard. Everybody involved in charities has an interest to prevent fraud. Trustees can take a lead on this but may find that Boards as a whole may be resistant to change. The Charity Fraud Awareness Hub has compiled some guidance on tackling organisational resistance to addressing fraud by first gaining Board support. 
The Charity Commission regularly compiles guidance for Trustees related to preventing fraud. The eight guiding principles to tackling charity fraud are a helpful resource for Trustees to learn more about what it means to embody fraud-prevention in their charities. 
This year, what will you and your charity do to keep #CharityFraudOut? Let us know @OfficialCause4.
If you would like support with effective Board governance, start a conversation that matters with an initial Cause4 consultation here.
More by posts by Edward Drew