Emerging Chairs Programme - Virtual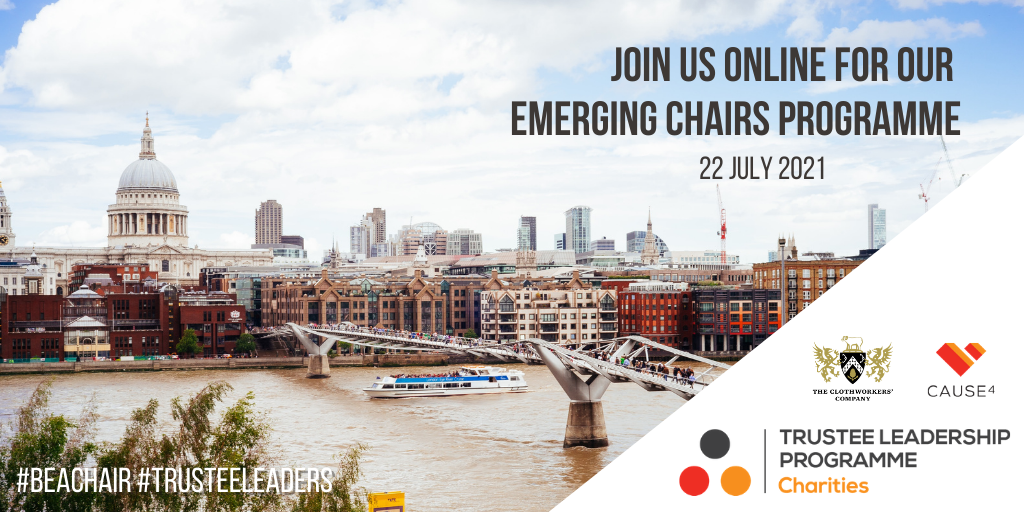 Emerging Chairs - a programme to support those taking on charity leadership roles.
The acclaimed Trustee Leadership Programme has now launched an enriching career development opportunity, offered over one day, to cover the key considerations and skills needed to chair a Board of Trustees. 
Too often Trustees find themselves chairing a Board with the ultimate responsibility for the charity's success and sustainability but with little support or training.  Just as with any organisation, the buck stops with its leadership and Chairs of charities need to feel empowered to know what is expected of them.
The programme is suitable for those who aspire to become Chairs of a charity or for existing Chairs who wish to progress and develop within their role.  All participants must have experience as charity Trustees. These practical sessions will also provide time for Q&A.
The programme will take place virtually via Zoom.
Emerging Chairs Programme: 22nd July 2021 (Thurs) - 9:30am - 4:30pm
 - Module 1: Leading a Board of Trustees
 - Module 2: Supporting the Senior Management Team
 - Module 3: Developing a Long-Term Business Plan and Strategy
 - Module 4: Fundraising and Marketing
 - Module 5: Challenges for Charity Chairs
The Emerging Chairs Programme is now Approved by the Institute of Leadership & Management, so participants can now opt to receive certification on completion of the course. This is a valuable way to demonstrate your continuing professional development and to showcase your commitment to becoming an effective board member.
Tickets cost £85 + VAT plus processing and banking fees.
Please complete this form to confirm your place.
If you wish to receive Institute of Leadership & Management Certification, the additional cost is £60 (inclusive of VAT).
If you wish to receive this certificate, please pay for it here.
If you have any other questions, please also email trusteeleadership@cause4.co.uk.
If the checkout above is not working you can click to book on Eventbrite here.
------------------
Michelle Wright
CEO, Cause4
T: 020 7247 2963
Booking terms and conditions can be read here.
The Trustee Leadership Programme is delivered by Cause4 and you will be contacted directly by this organisation. To find out more about our privacy policy, please contact trusteeleadership@cause4.co.uk.
Access Notes
Notes will be made available before the session for you to familiarise yourself with them if you like. We can provide these in the colour combination/font size that is most readable for you, please request this on booking. 
Please let us know when booking if it would be helpful for slides to be screen reader accessible.
Please let us know when booking if you would like to request closed captioning of the session through Otter.Ai.
At some points you may be asked to contribute in smaller breakout rooms with other participants. At the end of these, one participant may be asked to feedback to the full group. 
We encourage participants to keep their cameras on so that the speaker can engage with the full group. If you would be more comfortable doing so you can keep your camera off.
Organised breaks are scheduled throughout our sessions. You can turn your camera off or take a break at any point outside this.
We are happy to arrange any other modifications that you think might improve your experience and help you get the most out of the training.