Trustee Leadership Programme - Virtual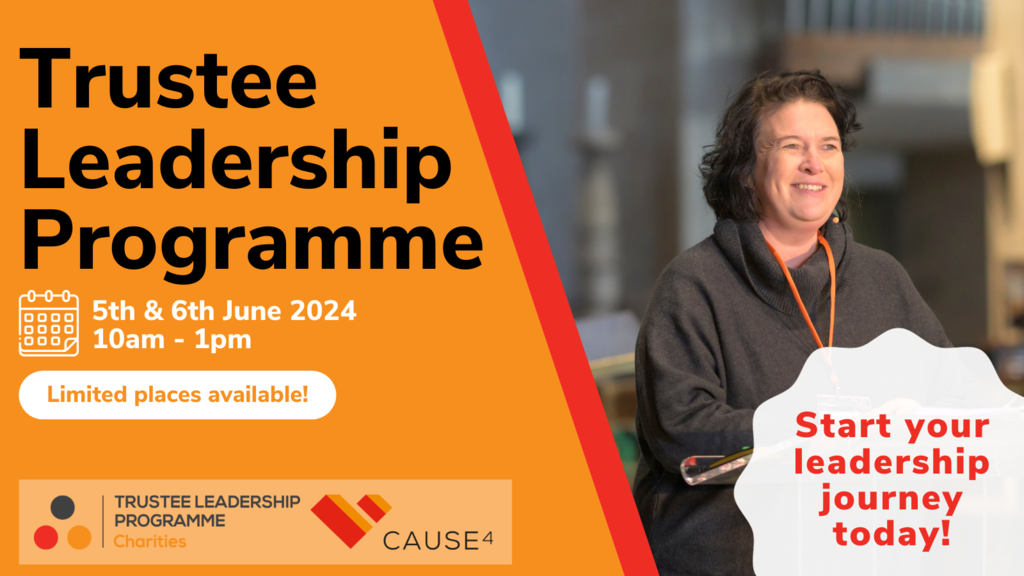 5 June 2024

to

6 June 2024
About the Trustee Leadership Programme 
Delivered by social enterprise Cause4 in partnership with the Clothworkers' Company, this award-winning Trustee course now trains over 500 Trustees a year and gives professionals the skills and confidence to join a charity as a board member.
An enriching career development opportunity offered across two online sessions, the course covers the key responsibilities of Trustees and other regulatory issues alongside real-world insights from experts from across the charity sector.
Course Details - Virtual - June 2024
5th June (Wednesday) - 10am - 1pm - Modules 1 and 2
You will cover issues including:
- an overview of the charity sector and the importance of Trustees; and
- governance and strategic planning. 
6th June (Thursday), 10am - 1pm - Modules 3 and 4
You will cover issues including:
- financial management; and
- an introduction to fundraising.
The first session is enhanced by an expert guest speaker, discussing their experiences as a Trustee, and answering questions.
The programme also includes bespoke matching support, where we use your interests, skillset and location preferences to find relevant Trustee vacancies from our network, helping participants on each programme to join Boards as Trustees.
The sessions give participants extensive time for Q&A, allowing for specific queries about governance and trusteeship to be addressed..
Sign up today to develop your leadership skills and strengthen UK charities.
The Trustee Leadership Programme is now Approved by the Institute of Leadership & Management, so participants can now opt to receive certification on completion of the course. This is a valuable way to demonstrate your continuing professional development and to showcase your commitment to becoming an effective board member.
Bursary Support 
We are delighted to announce that we are introducing a bursary scheme for our Trustee Leadership Programme. Bursary places are available to anyone who is from a background currently underrepresented in fundraising or governance, or who is unable to afford a full price place. 
We know there are many reasons why increasing diversity on boards is important, and we are committed to doing our part to support this change. 
"Tackling entrenched attitudes on your board can be challenging, however the improved diversity of thought on the board, and the inclusion of those with a sense of what your beneficiaries are facing, will be advantageous."

- Margery Infield, New Philanthropy Capital
We have developed two strands to this new offer:
If you'd like to support us with our commitment to increasing representation, you can choose to add an extra £10 when booking to help us to offer even more places to those who would not otherwise be able to attend our training.
If you'd like to be in receipt of a bursary place, you can get in touch with us we will ask you to submit a short expression of interest form. If you meet our requirements above, our bursary offer will reduce the price of a ticket to £10+VAT. 
To find out more about how to apply and our social impact please get in touch with the team on trusteeleadership@cause4.co.uk 
"The trustee programme was really insightful and gave me an opportunity to understand these roles in a way I wouldn't have been able to prior to the course. Trusteeships had always appeared inaccessible to me, but this course has given me the confidence to approach and apply for posts that I previously thought were out of reach."

- Izzy Rhodes, TLP Participant
What others say
Clearly articulated with a wide range of information provided and questions answered. Having a guest speaker and charity speed dating really brought it to life and gave meaning and context. - Lucy C-W, Local Government 
Extremely helpful. It provided a real insight into the work of trustees. I liked the ability to ask questions of the Trustees and gain an understanding of the needs and issues faced by their charities. I'd definitely recommend. – Debbie K, Government solicitor
The structure of the course was ideal, I was able to comprehend and digest the responsibilities and expectations of a Trustee. - Rafia F, UBS
Tickets for the virtual course cost £109.22 (inclusive of VAT and processing fees)
If you wish to receive Institute of Leadership & Management Certification, the additional cost is £60 (inclusive of VAT). Please note that this is a PDF copy (hard copies are not available at this time). 
If you wish to receive this certificate, please pay for it here.
If you have any other questions, please also email trusteeleadership@cause4.co.uk. 
------------------
Michelle Wright
CEO, Cause4
T: 020 7247 2963
Booking terms and conditions can be read here.
The Trustee Leadership Programme is delivered by Cause4 and you will be contacted directly by this organisation. To find out more about our privacy policy, please contact trusteeleadership@cause4.co.uk.