Pick of the Month - October 2019
It's October, the nights are drawing in, and everyone is dusting off their winter coats. To warm you up as we move into Winter, here's Cause4's monthly round up of exciting leaders from across the third sector. 
Social Entrepreneur of the Month - Camilla Marcus-Drew, The Soap Co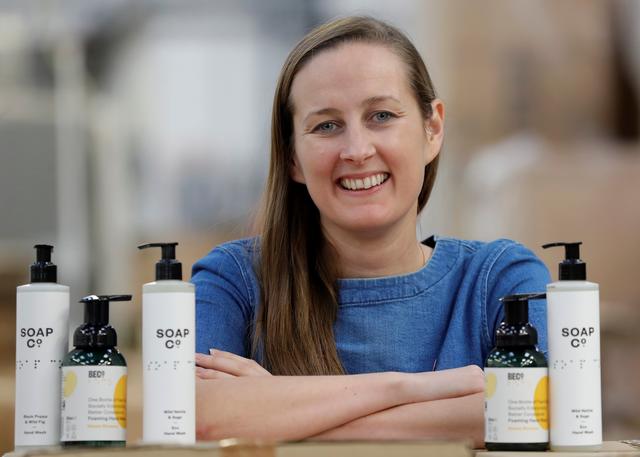 Co-founder of The Soap Co., Camilla Marcus-Dew is known as a female powerhouse when it comes to the social enterprise community. Her achievements include winning the 'Female Business Leader Award' at the Blue Patch Business Awards and the 'Inspirational Award' at the Variety Catherine Awards in recognition of her contribution to business and philanthropy.
Designed for good, The Soap Co. is an ethical luxury brand that creates cruelty-free body care products with real social purpose to care for consumers' skin. The Soap Co. products are hand-crafted in small batches by a predominantly disabled workforce. Not only does the brand have a socially aware focus, it also pays attention to the environment, with an award-winning minimalist design created with locally sourced ingredients and bottles. Above all, The Soap Co. is a no-compromise brand that has been able to both disrupt the market and show that placing purpose over profit is no barrier to achieving commercial success in the beauty industry.
Under Camilla's guidance, The Soap Co. has undertaken an extraordinary journey, creating major ripples in the beauty industry and being admired by celebrities and influencers.
Camilla said:
"The Soap Co. shows that there doesn't need to be trade-off between award-winning design, responsible living and social purpose. We don't believe in compromising on the pillars that our brand and social enterprise are built on.   It's so much more than just employment, we're also very much focused on the environment, local sourcing, supporting other small social enterprises and much more - there are so many things we do in addition to creating real jobs for some of society's most vulnerable people." 
Check out the luxurious array of products available at The Soap Co. You can also see the #STEALOURSTAFF campaign run by The Soap Co here. 
Charity Leader of the Month – Sara Nathan, Refugees at Home 

After a career in media, Sara co-founded Refugees at Home with her brother and sister-in-law. The charity connects hosts who have a spare room, with asylum seekers and refugees in need of accommodation. Four years ago, feeling helpless about the growing refugee crisis, and following the departure of their adult children, Sara's family decided to put the empty rooms in their houses to good use. From that basis, the charity has grown and has now found over 1,750 temporary homes for refugees. The charity provides something simple, that many people can do, and supports hosts to do it.
Case studies from participants stress the mutual benefit of the arrangement. Refugees have a place to call home for a while, giving them time to establish themselves in a new place, and set themselves up with stable lives in the UK. Hosts find the experience 'uplifting and rewarding', getting to connect with individuals with vastly different life experience and make new friendships. 
On an average night, 130 refugees are in a home due to the charity's work across the country. 
Sara remains a host, saying:
"Hosting is such a life-enhancing way of helping people who really need it. Apart from bringing 19 guests successively into my home and giving them somewhere warm, safe and dry to sleep while they sort out their lives in the UK, it has brought me friends I never would have met, knowledge I wouldn't have gained and some amazing food as well. I feel so lucky to have been able to host and to set up Refugees At Home. At a time when one can feel helpless in the face of global and national challenges, hosting means you are doing something to make a difference at a critical time in someone's life. We may not be able to do everything - but we can all do something to make things better. And hosting does."
If this inspires you to host, please sign up. 
Trustee of the Month – Katrina Liao

Katrina Liao is the Treasurer at Community Housing and Therapy, a charity that supports adults and young people with complex mental health conditions. Katrina chose to become a Trustee as she wanted to find a way to give back to society. She sought a way to utilise the skills she had acquired over her professional career to benefit a charitable organisation.
Katrina wanted to understand what would be required of her as a trustee and how her skillset could be best used within a charitable organisation, so she decided to attend the Trustee Leadership Programme, hoping it would give her an overview of the requirements of a trustee and in particular the responsibilities that comes with taking on a trusteeship, and what to look for within charitable organisations.  
"The programme prepared me in all the ways I was seeking and then some as I also matched with a charitable organisation that visited during the training. I have found being a trustee very rewarding and I look forward to continue to add value to the charity I have joined."
Her advice for new trustees is:
 "Go for it!  Charities need professionals to give their time and expertise to help them implement and fine-tune their strategic initiatives."
Fellow of the Month – Tom Shallaker 

Tom has experience working in fundraising roles in the arts and education sectors and has recently taken up the role of Fundraising Manager at Lighthouse in Poole. As the sole fundraiser at Lighthouse, Tom is responsible for individual giving, corporate partnerships and income from trusts and foundations.
Tom started his fundraising career as a Trainee at Sheffield Theatres, and has also worked in development teams at Northern Ballet, Cambridge University and Cambridge Live. He has also been a Trustee at Babylon Arts.
"Being part of the fellowship has given me the skills and confidence to develop leadership skills that I can apply within my own organisation. The programme has included academic study, practical training, working with a mentor and meeting leaders from across the industry. This has helped me to work with our senior management team to put fundraising at the heart of our future strategy and business planning – ensuring that our case for support remains a key factor in any decision making.

The fellowship has also provided an invaluable peer network – having nine other fellows to share ideas and work with has been a hugely positive benefit."
More by posts by Naomi Chapman